This week, we look at the most searched financial terms of 2020. Given the ETF market's growth, especially relative to Mutual Funds, it is surprising to see that the individual investor is focused on more practical searches. This highlights two important themes which we have often covered in our ETF Think Tank Research:
The ETF structure is just a wrapper; a more efficient vehicle for delivering investment exposures.
Investors are concerned with real world problems; advisors must guide them to solutions. The ETF structure is just a great lure in the tacklebox to help advisors solve investors' challenges.
It is interesting to see massive growth within our ETF Ecosystem in this very volatile 2020.
Nate Geraci noted the flows have been quite strong, which goes against what most financial media expected:
What are Investors Searching for?
In mid-2019, primary searches among investors had little to do with investing. Here are the top 7 financial-term searches by state: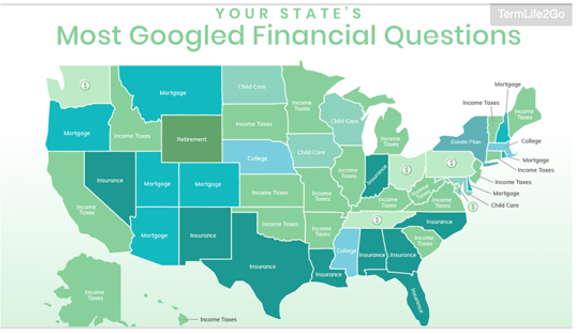 The terms below don't reference Mutual Funds or ETFs:
Income Taxes
Insurance
Mortgage
College
Estate Planning
Retirement
Child Care
The key here is not to get lost in the details of delivery; advisors should focus on the challenges posed by clients. The ETF is just a more efficient wrapper to deliver solutions on these concerns. The ETF Think Tank refers to these benefits as "client alignment growth factors," meaning ETFs help solve investors' concerns with better relation to Mutual Funds.
Transparency
Liquidity
Tax Efficiency
Lower Cost
What Changed in 2020?
For passive ETF investors, we have warned multiple times about the impact of the pandemic on index investing.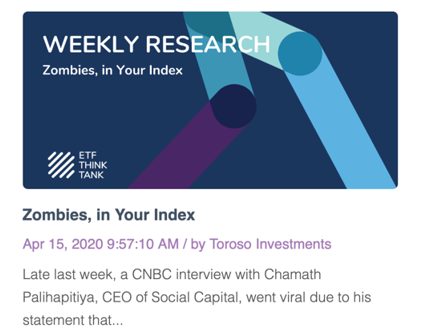 The mindset of individual investors also changed in 2020. We have seen a Robinhood effect fueled by Barstool Sports. This article shows the search appetite for investors in 2020. This is more specific, but ETFs still don't come to the top; bottom fishing in oil stocks seems to be very popular in some states.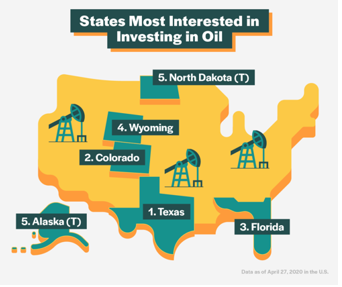 Disclosure
The information provided here is for financial professionals only and should not be considered an individualized recommendation or personalized investment advice. The investment strategies mentioned here may not be suitable for everyone. Each investor needs to review an investment strategy for his or her own particular situation before making any investment decision.
All expressions of opinion are subject to change without notice in reaction to shifting market conditions. Data contained herein from third party providers is obtained from what are considered reliable sources. However, its accuracy, completeness or reliability cannot be guaranteed.
Examples provided are for illustrative purposes only and not intended to be reflective of results you can expect to achieve.
All investments involve risk, including possible loss of principal.
The value of investments and the income from them can go down as well as up and investors may not get back the amounts originally invested, and can be affected by changes in interest rates, in exchange rates, general market conditions, political, social and economic developments and other variable factors. Investment involves risks including but not limited to, possible delays in payments and loss of income or capital. Neither Toroso nor any of its affiliates guarantees any rate of return or the return of capital invested. This commentary material is available for informational purposes only and nothing herein constitutes an offer to sell or a solicitation of an offer to buy any security and nothing herein should be construed as such. All investment strategies and investments involve risk of loss, including the possible loss of all amounts invested, and nothing herein should be construed as a guarantee of any specific outcome or profit.  While we have gathered the information presented herein from sources that we believe to be reliable, we cannot guarantee the accuracy or completeness of the information presented and the information presented should not be relied upon as such. Any opinions expressed herein are our opinions and are current only as of the date of distribution, and are subject to change without notice. We disclaim any obligation to provide revised opinions in the event of changed circumstances.
The information in this material is confidential and proprietary and may not be used other than by the intended user. Neither Toroso or its affiliates or any of their officers or employees of Toroso accepts any liability whatsoever for any loss arising from any use of this material or its contents. This material may not be reproduced, distributed or published without prior written permission from Toroso. Distribution of this material may be restricted in certain jurisdictions. Any persons coming into possession of this material should seek advice for details of and observe such restrictions (if any).